Since 2019 we all have been puzzled as to when the horses from Egypt will arrive at the State Stud Marbach. Now the time has come: on April 19, nine horses from Paraskevas Arabian stud arrived in Marbach. Yesterday they were presented to the public at a press conference. But when they can be admired by visitors in the stables and pastures depends not least on the corona situation.
The cooperation between Philippe Paraskevas from Egypt and the State Stud Marbach in Southwest Germany developed over several years after Paraskevas visited Marbach on a tour of Germany while promoting his book "The Egyptian Alternative". Since that visit, he has been a big fan of this institution, which is committed to preserving the legacy of King Wilhelm I. The fact that dam and sire lines have been preserved here for over 200 years convinced him that Marbach is the right place for his horses. In February 2019, stud director Astrid von Velsen-Zerweck flew to Egypt together with the (then) interim breeding manager of the German Arabian Horse Society, Burchard Schröder. In addition to a visit to the El Zahraa State Stud, a visit to Philippe Paraskevas was on the agenda, where they would make a first rough selection. Astrid von Velsen rode two stallions in the desert and was very impressed with their endurance and suitability to ride.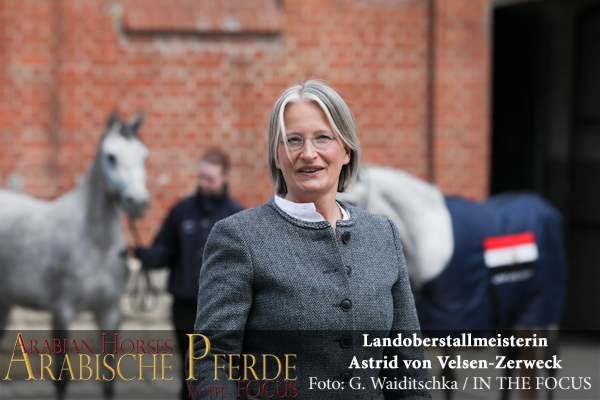 On inspection tour in Egypt
Now the plans became more concrete. On the occasion of the stallion parade at Marbach in September 2019, the Minister for Nutrition, Rural Areas and Consumer Protection, Peter Hauk, announced that he would travel to Egypt in November, together with stud director Astrid von Velsen, to look for suitable Arabian stallions. In November 2019, a delegation from Swabia traveled to Egypt to visit Paraskevas Arabians to specifically select the horses. During this trip the delegation also attended the International Arabian Horse Show at the El Zahraa State Stud. Due to the corona pandemic, another year and a half would pass before the horses would start their journey and finally arrive at Marbach Stud on April 19. For the predominantly young horses, who previously only knew sand and desert, the arrival in Germany is a culture shock and the new home in the Swabian Alb offers an unbelievable wealth of new impressions! "They have yet to learn that you can eat grass right off the ground and that you can walk on it, not just on the sand. They don't even know asphalt, they walk like on eggs, because everything is sand in their home stud", explains the stud director. Minister Hauk explained very vividly: "When you open the gate of Paraskevas Stud, the desert begins right there! These horses only know sand." "We want to give the horses some time to get used to their new environment. Before their departure, they spent three months in quarantine, in a military facility in the middle of Cairo. There they hardly had the opportunity to move. Therefore, we have to slowly build up their condition again," explains Astrid von Velsen. "In addition, to be on the safe side, they are still in quarantine, which is why they are not yet accessible to the public".
In total, Philippe Paraskevas gave the stud nine horses – five stallions and four mares – "at a symbolic price," as Minister Hauk put it. With this legacy, Philippe Paraskevas hopes that his breeding endeavor of the last 30 years will be continued at Marbach. Unfortunately, his children are not very interested in horse breeding, so he intends to reduce his stock – both here and there, this being a problem for private breeders. That is why state studs are so important as a guarantee of continuity.
Philippe Paraskevas wrote a greeting message as he was unable to come to Germany due to the Corona pandemic: "The Egyptian Arabian horse is recognized as a National Treasure of Egypt and is our heritage from the desert of Arabia. The E.A.O., our State Stud, is the fountainhead of the breed and a pristine source of purebred bloodlines the world over. Outside of Egypt, in the heart of Europe, Marbach State Stud is the premier safe haven for the Desert Arabian horse. In an effort to give back to the breed, consistent with my goals of preservation of the bloodlines under my care, I am honoured to present to Marbach State Stud these 9 horses of Paraskevas Arabians breeding. This will be my modest contribution to Marbach State Stud breeding goals".
Incidentally, the state of Baden-Württemberg is still behind the package of measures for Marbach, which was announced at the end of 2019 and is worth over 40 million euros. With this money repair and renovation of the buildings, many of which are listed as protected monuments should be made possible. This means that various conversions and new buildings can be carried out to bring horse keeping up to date. These projects will perhaps take a longer time due to the tense budget situation caused by the pandemic, but "we are fully behind it, after all, this is about animal welfare", said the minister. And to clear up the last remaining ambiguities – no, the 40 million have absolutely nothing to do with the new horses from Egypt!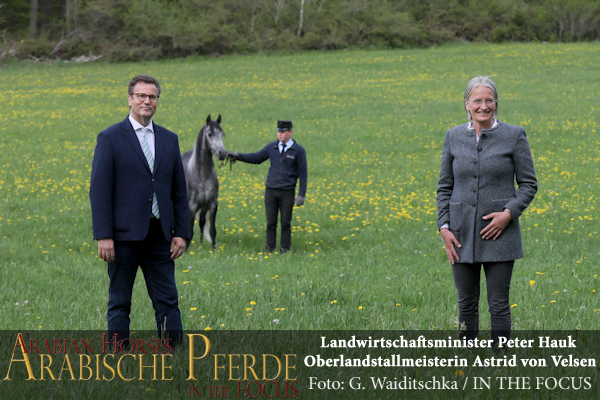 The "new Egyptians"
And who are the "new Egyptian Arabians" and what makes them so special? The star of the group is 11-year-old Nasheed Al Amal Hoor (Hafez Al Ahd Hoor / Aneedah) * 2010. On his father's side, the grey stallion belongs to the sire line Jamil El Kebir via Anter. The black stallion Gharib, who came to Marbach in 1970 through the initiative of the then stud director Dr. Wenzler, belonged to this line, which has become rare today. Nasheed is a grandson of Ghallab El Ateyah, the head sire of Paraskevas Arabians Jamil el Kebir line – most of his breeding is based on this stallion. Nasheed el Amal's dam Aneeda comes from Rashdan, a stallion from El Zahraa. On the dam's side, Nasheed goes back to the Saklawi-Gidran mare Roga El Beida, via the legendary Moniet El Nefous. Nasheed el Amal is a worthy chief sire who already has five foals at the Paraskevas stud. He is dry in appearance, with a strong body and strong joints – very different from the Arabians of other bloodlines, who are characterized by "dish" and delicacy. He is also very expressive, masculine, and sovereign, i.e. a stallion, at first sight, a quality that some show horses have lost. Incidentally, Philippe Paraskevas is known for giving his horses meaningful, poetic names. The translation of Nasheed Al Amal reads: "The Poem of Hope".
In second place is Tag Al Ola Hoor (Shaer Al Nil Hoor / Kawkab Al Shark Hoor) * 2016, also grey. He also comes from the Jamil El Kebir sire line, and Ghallab El Ateya is his paternal great-grandfather. He is five years old and has not yet fully matured. He has an athletic body, although one would wish his neck a little more elegant. His mother, Kawkab Al Shark, is a full sister of Zay El Hawa, the sire of Day El Kamar, the third member of the group of newcomers. Kawkab el Shark also goes back to the dam line Roga El Beida via Moniet El Nefous. His name means "The Crown of Achievements".
Day Al Kamar (Zay El Hawa / Gebeen Al Kamar Hoor) * 2016 belongs to the stallion line El Deree, which is extinct in Germany and which is also quite rare in Egypt. He is characterized by longer lines, tall and elegant, but still very youthful – Egyptians are maturing very late. His mother Gebeen Al Kamar belongs to the Kuhaylan-Krush strain, which otherwise does not exist in Germany. All the three stallions mentioned have also the mare Aneedah (by Rashdan) in their pedigree, either as mother or grandmother. His name means "moonlight".
Kaf Al Kadar Hoor (Ashham / Robaeyat El Khayaam Hoor) * 2017 is the fourth in the league and a representative of the Saklawi I sire line. His father is Ashham, a chestnut stallion with a beautiful face that Paraskevas bought from El Zahraa. His sire in turn is Halim El Zahraa from Gad Allah – all horses of high standing in the Egyptian state stud. This dark grey horse is still quite immature, but has a very nice, calm eye with a straight profile, and looks overall strong with good joints. He belongs to the dam line Rodania and is therefore of the strain Koheilan Rodan. His name means "The full Force of Destiny".
The only "non-gray" in the group is Lesa Faker Hoor (Agad x Leilat Al Eid Hoor) *2017. He also comes from the stallion line of Saklawi I. His sire, Agad, is a son of Tagweed from El Zahraa, who died much too early. Tagweed, in turn, comes from the dream mating Gad Allah x Tee. Lesa Faker's dam Leilat Al Eid Hoor is a daughter of the chief sire Ghallab El Ateyah and one of the most beautiful mares at the Paraskevas Stud: Typey, with a beautiful neck, broad in the chest, deep in the body, just as it should be for a broodmare. Because of this origin, there is still hope that Lesa Faker Hoor will still become a bit wider; so far he has been rather delicate and (too) fine. On his mother's side, he goes back to the founding mare El Obeya Om Grees and thus belongs to the Obeyan strain. His name translates as "He who still remembers the past".
Let's have a look at the mares. The oldest is Set El Kol Hoor (Agad / Al Set Hoor) *2017, a grey mare who doesn't seem to have "arrived" yet so that she cannot yet be judged. She is (hopefully) in foal to Paraskevas' chief sire, the stallion Ghallab El Ateyah. Her dam Al Set Hoor is a strong and powerful mare that you want to saddle up and ride – just as you would with a war mare. Set El Kol comes from a combination of the Saklawi-I stallion line with the Saklawi Gidran line of Roga El Beida. Her name means "The Matriarch".
The other three mares are only two and three years old. These are the two Agad daughters Shahd Al Radab Hoor (out of Naghamet Al Karawan Hoor) *2018 and Zahret El Eid Hoor (out of Leilat Al Eid Hoor) *2018. Both come from the Saklawi I sire line, whereby Zahret El Eid is a full sister to the above-mentioned Lesa Faker, thanks to her dam Leilat El Eid, and thus an Obeyan. The dark grey mare is extremely typey and resembles the Saklawi type. Her half-sister Shahd Al Radab belongs to the rare Kuhaylan Krush strain, which is probably only represented in Germany by these two Paraskevas horses. The name Shahd Al Radab means "Sweetness of a Kiss", while Zahret El Eid means "Flower of the celebration".
The youngest of the group is Saherat Alehwerar Hoor (Ashham / Robaeyat Al Khayyam Hoor) *2019, a full sister to the above-mentioned Kaf Al Kadar Hoor. Her name means "The one with the Enchanting Gaze" and she will certainly live up to her name when she is fully grown.
Refreshment of blood for Marbach
With this import, after around 50 years, blood refreshment is available again for the Marbach Arabian breeding program, i.e. bloodlines that do not have high inbreeding on Nazeer and originate from other stallion lines. In particular with Nasheed, Tag El Ola, and Day El Kamar, stallions from the rather rare stallion lines Jamil El Kebir and El Deree – provide outcross opportunities. That could lead to a genetic heterosis effect. This year it is planned that Nasheed and Tag El Ola will be used in the main stud herd. Next year they will probably also be available for foreign mares when the breeders can see the first foals in Marbach.
And as Philippe Paraskevas wrote so beautifully in his greeting address: "In the certainty that this precious legacy will find a long-term future here in Marbach, I leave it to the capable hands of the committed men and women of Marbach; the people who are now part of the family." May the seeds fall on fertile ground.
Gudrun Waiditschka
For more information on the breeding program of Philippe Paraskevas in Egypt, please refer to our article about his stud in our magazine "Arabian Horses IN THE FOCUS" issue 4/2020
The pedigrees of these horses can be found at sporthorse-data:
https://sporthorse-data.com/pedigree/zahret-el-eid

https://sporthorse-data.com/pedigree/sit-el-kol
https://sporthorse-data.com/pedigree/shahd-el-radab
https://sporthorse-data.com/pedigree/saherat-el-ihwerar
https://sporthorse-data.com/pedigree/nasheed-el-amal
https://sporthorse-data.com/pedigree/kaff-el-kader
https://sporthorse-data.com/pedigree/day-el-kamar
https://sporthorse-data.com/pedigree/tag-el-ola
https://sporthorse-data.com/pedigree/lissa-fakr