Am 05. September fand im Rahmen des Hauptrenntages der Großen Woche auf der Rennbahn in Iffezheim der 'The President of the United Arab Emirates Cup' statt. Der Cup ist eine weltweite Serie für arabische Pferde. Nach einem Jahr Corona-Pause für die Zuschauer war es nun wieder möglich, dieses Listenrennen mit 12 Startern über 1600 Meter mit einem Preisgeld von 40.000 Euro vor Publikum zu laufen.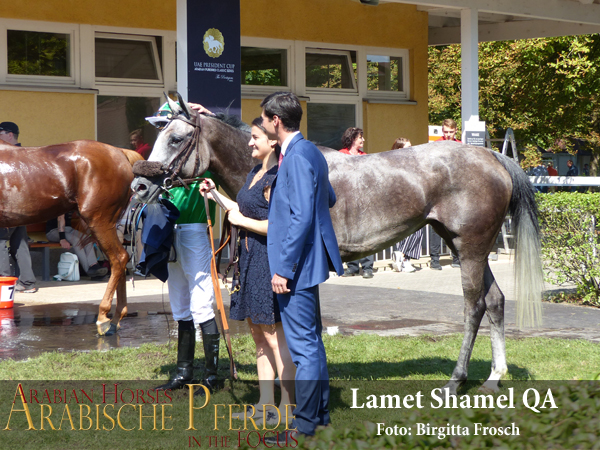 Siegerin wurde die 5jährige Schimmelstute Lamet Shamel QA (Af Albahar (UAE) / Valuta Khan (HOL)), gezogen in Qatar und im Besitz von Waleed ben Zaied aus Frankreich. Geritten wurde die Stute von Oliver d'Andigne und steht im Training bei Jean-Loup de Mieulle/FR. Mit einer halben Länge Rückstand ging der 4jährige in Frankreich gezogene Schimmelhengst Almafjar (Mister Ginoux (FR) / Al Dhabi (QA)), im Besitz von Al Shaqab Racing/FR über die Ziellinie. Als Dritter kam mit 1,5 Längen Abstand der 7jährige in Belgien gezogene braune Hengst El Zarka (Af Albahar (UAE) / Schiva D.A. (BEL)), im Besitz von Johann Verstrepen/BEL ins Ziel. Der Vorjahressieger Freddy Py ox (TM Fred Texas (USA) / Via Hipolyte (FR)) wurde 5. und Mashhur al Khalediah (Jalnar al Khalidiah (KSA) / Amerah al Khalediah (KSA)), der Sieger aus dem Jahr 2019, erreichte nur den 6. Platz.
Unter dem Link badengalopp.de finden Sie weitere Informationen zu diesem Rennen.
| | | | | | | |
| --- | --- | --- | --- | --- | --- | --- |
| 1. | Lamet Shamel QA (FR) | sicher | 20.000 € | W.ben Zaied/Frankreich | 54,0 kg | 9,4 |
| 2. | Almafjar (FR) | 1/2 Länge | 10.000 € | Al Shaqab Racing/Frankreich | 56,0 kg | 8,0 |
| 3. | El Zarka D.A. (BEL) | 1 1/2 Längen | 5.000 € | J.Verstrepen/Belgien | 56,0 kg | 37,1 |
| 4. | Mounjared Al Cham (FR) | 1/2 Länge | 2.500 € | Al Shaqab Racing/Frankreich | 56,0 kg | 4,0 |
| 5. | Freddy Py (FR) | 1 1/2 Längen | 1.500 € | G.Th.Zoetelief/Niederlande | 57,0 kg | 5,3 |
| 6. | Mashhur al Khalediah (FR) | 1 Länge | 1.000 € | Athbah Stud Ltd./England | 56,0 kg | 5,0 |
| 7. | Messi (BEL) | 3/4 Länge | | V.Keersmaekers/Belgien | 62,0 kg | 10,0 |
| 8. | Mayar Al Khalediah (FR) | 12 Längen | | Polska AKF Sp.z o.o./Polen | 56,0 kg | 18,6 |
| 9. | General Lady (FR) | 6 1/2 Längen | | WOW sp.z.o.o./Polen | 55,0 kg Mgw. 1,0 | 19,8 |
| 10. | Conchita D.A. (BEL) | 3 1/2 Längen | | P.Deckers/Belgien | 55,0 kg | 30,9 |
| 11. | Ainhoa Damili (FR) | 15 Längen | | Stall Eclipse/Deutschland | 54,0 kg | 30,2 |
| 12. | Maestro MNM (GER) | 71 Längen | | Günay Equestrian Invest GmbH/Polen | 56,0 kg | 49,7 |