After a forced stay of about four weeks on the Syrian-Jordanian border in Nassib, Adnan Azzam has now received permission to enter Jordan with his two Syrian mares. He will be able to continue his journey, which began on April 20 in Damascus and will end in Moscow in about eight months.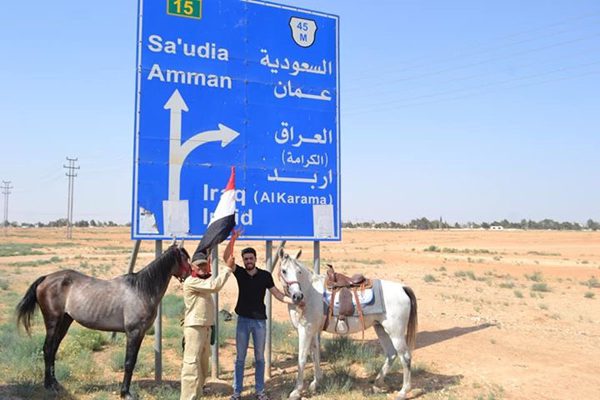 Already on April 20, the French-Syrian travel writer Adnan Azzam embarked on a journey from the Omayyaden Square in Damascus to Moscow, a trip of 5 to 6,000 km on horseback. He plans to travel to Moscow via Baghdad and Tehran in eight months. In this adventure, which he called "Syria into the World", Adnan rides two pure Syrian Arabian mares. He undertakes this expedition to meet people, to promote the dialogue of cultures and to deepen the friendship that unites these peoples. On his arrival in Moscow, Adnan Azzam will hand over the two Syrian Arab mares to Putin as a gift from the Syrian people.
It is not the first adventure of this kind that Adnan is undertaking. He was on horseback between 1982 and 1986 on a "world tour" and had written a book about it: "à cheval entre Orient et Occident" (on horseback between Orient and Occident). "I feel obliged to return to these peoples 30 years after my journey "between Orient and Occident" with the Syrian Arabian horse to revive the cultural bonds that bind us together. I look forward to the stories that I will have on the 5,000 kilometers that separate Damascus from Moscow," says Adnan.

He has a documentary titled "Syria is a Myth of Stability", which has been translated into Persian and Russian and will be aired in the countries he will traverse to show the scale of the destruction and conspiracy against the Syrian people. He also agreed, during his trip, to meet the representatives of the student and youth movement in the countries concerned, in order to convey the message of friendship and peace to the countries that assisted Syria in the fight against terrorism.
The journey began with a big farewell party on April 20 and a march from Umayyad Square to the Old City of Damascus to the burial ground of Salah ad-Din (Saladin), the first sultan of Syria and Egypt in the 12th century, who led the Muslims in the campaign against the Crusaders. He was buried in a mausoleum in the garden in front of the Umayyad Mosque. It was amazing to see how calm these two mares remained in the crush of crowds. The locals were happy to see the horses, and the children wanted to touch and pet them – horses are an ideal way straight into the hearts of the people.
Gudrun Waiditschka