At yesterday's stallion parade in the main and state stud Marbach also political celebrities were guests and had brought good news for the stud "in their saddlebags". The Baden-Württemberg Minister President Winfried Kretschmann announced a package of measures for Marbach of the amount of a "medium 2-digit million" sum, for the repair and renovation of buildings, many of which are listed as historic monuments. Thus, various alterations and new buildings can be realized to bring the horse management up to date. The green-black cabinet must approve the plan on Tuesday. In a humorous speech, Kretschmann said, "It's just a lot of money – but it's well spent" and "it's your taxpayer money," he added.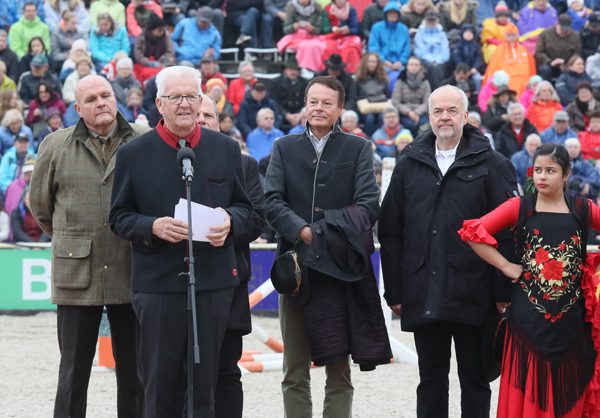 Somewhat more precise was then Peter Hauk, Minister for Rural Areas and Consumer Protection, who concretized the figure to 40 million euros, which will be distributed over the next few years. In addition, he will be going to Egypt with the stud director Dr. Astrid von Velsen-Zerweck to look for some suitable Arabian stallions.
Unfortunately, the last of three performances of the Marbach Stallion Parades took place in a drizzly autumn weather, but this did not prevent spectators or celebrities from attending the event until the end. Nevertheless, the host country Spain had some southern feeling, and the performances of the Cordoba Equestre were really worth seeing. The absolute highlight, however, was the quadrille with 12 two-man harnesses, which were driven with millimeter precision, and the "Speedtrail & Drive", where a rider crosses a speed trail from working equitation and "his team" negotiates an obstacle course, both against time – there it was the audience to cheer and applaud warm! Not to be missed was of course the Silver Herd, which now has a few autumnal splashes of color, and the final quadrille with 10 stallions, and many more program points.
The date for the next stallion parades is already fixed: It is September 27, October 3 and 4, 2020!