On the occasion of its last Annual General Meeting, the Asil Club decided to recognize a group of approx. 300 foundation horses from Iran as "Asil Arabians". Since the Iranian Arabians are hardly known in Europe, we are reprinting here Gudrun Waiditschka's lecture on the "Asil Iranians".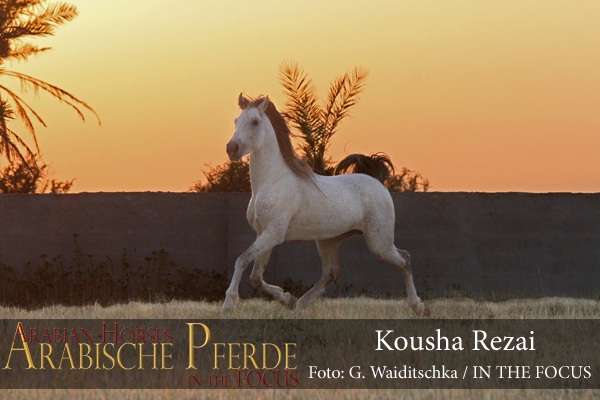 The "Grand Old Dame"
You can't talk about Arabian horses in Iran without introducing Mary Gharagozlou and her life's work. Born in 1927 as the daughter of Naqi Khan, a doctor who came from a long line of Persian landowners and statesmen from the Gharagozlou tribe, and the American Katherine Ladd, a librarian at the University of Baltimore, Mary had insights into two worlds – the Orient and Occident. She married Majid Bakhtiar, a Bakhtiari tribal leader, and became Iran's leading expert on arid farming. She worked tirelessly for the benefit of the nomadic tribes throughout Iran, lived with them and they paid her the greatest respect. For several years she was also head of the Iranian nomad ministry.

It was an exciting, fascinating, but also difficult life, because she stood up for the nomads all her life, but the government was suspicious of them, so she ended up in prison at the one or the other occasion. When she married her husband Majid Bakhtiar, he had already inherited a stud from his father. Through him she got to know the Arabian horses in Iran, which were to become her great love and passion. Her life's work was then the registration of the Arabian horses in Iran in a studbook in order to have them recognized by the WAHO. She only succeeded in doing this thanks to her outstanding position of trust among the nomads, because here, as in other countries in the Middle East, the nomadic population was very skeptical of the government and was not always ready to provide information about their valuable horses or let them being branded as the WAHO demanded for identification. They feared this might be a government method of stealing their horses. In spite of all efforts on the part of Mary Gharagozlou, one or the other horse was "left out".
-------------------------------------------------------------------------------------------------
The rest of this article is only visible to Online Subscribers.
Please log-in, if you are already an Online-Subscriber: Login-PagePlease go to the Shop, if you want to become an Online-Subscriber: Shop-page
The one-year Online Subscription is available at 20 €
-------------------------------------------------------------------------------------------------