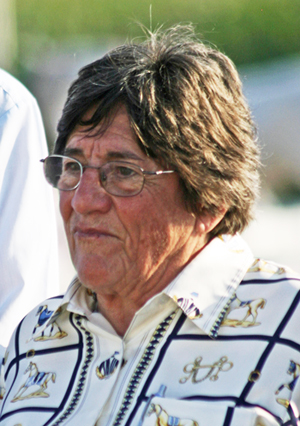 After a long and eventful life, Ursula Rahm died at home on July 21st at the age of 94. Through her work for the Arabian horse, she has influenced many people and their way of life. My life would also have been different without Ursula Rahm.
But where do you start, where do you end, with a life as eventful as Ursula Rahm led? Born on March 27, 1927, in Männedorf, she attended school in Zurich and then completed an apprenticeship as a laboratory assistant in the Zurich Animal Hospital. She had always been fond of animals, but horses in particular. Unfortunately, she couldn't afford riding lessons until she started earning her own money.
In 1950 she married Urs Rahm, who was employed at the Tropical Institute, and a year later they moved to the Ivory Coast for professional reasons. Daughter Salome was born there and a few years later they went back briefly to Switzerland, where their son Lukas was born. In 1958 the whole family moved back to Africa, this time to the Belgian Congo (Kivu, in the east of the Congo) where Urs worked in a research station. Ursula helped with animal films and sooner or later had a whole menagerie at home. In 1960 the family had to flee because of the war of independence. But they did not let go of Africa – they were back around a year later. While Urs worked in the research station, Ursula ran a farm with dairy cows and various wild animals (mountain gorillas, chimpanzees, buffalo, antelopes, etc.). The adventures she told from that time could fill entire books. Daughter Claudia was born in May 1969, in December of the same year the time in Africa came to an end and the Rahm family returned to Switzerland. They built a home for themselves in Himmelried, of course with horse stalls, into which soon some horses moved in.
Regarding the Shagya Arabians, 1973 was the "fateful year" – Ursula Rahm traveled to Denmark to the Bartahus stud owned by Ulla Nyegaard and there bought the two-year-old mare O'Bajan I-17 (O'Bajan I / O'Bajan X- 1). At home she was only called Masikia because she always hung her ears – and Masikio means "ears" in Swahili. Masikia was a stroke of luck in the breeding barn. Not only was she a "picture book mare" who won numerous championships, but she also produced excellent offspring – a total of 16 foals! Among them also Batan, who later advanced to be the main stallion in the Hungarian state stud Bábolna, as well as the mares Amoraja, Bajgala, and Paraja, who carried on Masikia's legacy in the breeding program. In the early days of her Shagya Arabian breeding, she also founded the Swiss Breeding Cooperative for Arabian Horses (SZAP), which was then responsible for both purebred Arabians and Shagya Arabians. Ursula Rahm was involved from the very beginning and was the secretariat for many years. In the spring of 1976, she went to England and bought the purebred Arabian mare Aphaia, who arrived together with her filly in Switzerland in May 1976. She was also used as a broodmare, but not with the same success as her stablemate.
In 1983 ECAHO was founded in Switzerland – to protect the horses and to guarantee "fair play" at the shows. The protection of the horses was particularly important to Ursula, and she was soon notorious all over Europe as a member of the disciplinary committee that kept the shows in order. Ursula Rahm was present when ECAHO was founded and remained loyal to this organization for a long time, first as treasurer and DC, later as a trainer for DCs and member of the appeals committee.
I got to know Ursula in the 1980s at the famous Frauenfeld shows. About 10 years later it was she who proposed me as General Secretary of ECAHO, a position I held for about 16 years. I like to think back to the many meetings at her home "Im Muspenacker", the long evenings with Major Pat Maxwell, Ursula Roberts, and many others. Her house was always open and the world was her guest. Many ideas were born here, many discussions were held, and Ursula's concern was always the well-being of the horses. She was uncompromising and direct, which not only brought her friends – but everyone showed her respect.
In 2017 she received honorary membership of ECAHO for her services, in 2018 she was honored as "Person of the Year" on the occasion of the All Nations Cup in Aachen. She took the opportunity to address a few words to the audience and officials: "I am very honored to receive this award. The well-being of the horses has always been my top priority. But I am sad that in recent years the horses have moved more and more into the background, the 'show' as such has come to the fore. It's the horses that deserve our attention, not the show. I ask you, love your horses and make sure that they are feeling well at shows."
Ursula Rahm is a "veteran" of the Arabian horse scene. She has dedicated around half of her lifetime and many years of hard work to the Arabian horse – on a voluntary basis! On my last visit, she said how nice it was to talk to someone about the good old days because she hated the path that the show scene had taken in the meantime. As she said goodbye, she said that this would probably be the last time we would meet, as she doesn't expect to be here much longer. Unfortunately, she was right.
Gudrun Waiditschka