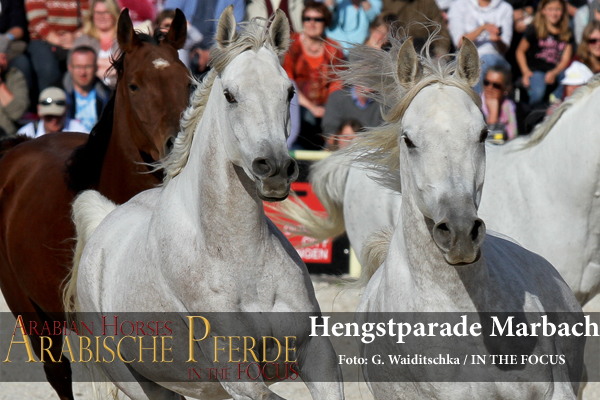 On 29th September, 3rd and 6th October, the main and state stud Marbach invites its guests to come for the traditional stallion parades to the Swabian Alb. In the midst of the biosphere area, visitors are offered a four-hour show program with over 100 horses for the whole family, displayed against the backdrop of the oldest German state stud. Proud stallions, noble mares and lively foals present themselves to the large public. Fast riders, elegant teams and horses in freedom make the hearts of big and small horse lovers beat faster. The horses of the main and state stud will be enriched this year by the host country Spain. The famous royal riders from Córdoba will present their classy stallions in different varieties of the Spanish riding culture. Spanish Fiesta Feeling comes with the dances of the duo Ana Ayromlou and Oliver Jubin, the dance school of Gitte Wax, and the vaulting group of Marbach. This year's premiere also includes a 20 two-in-hand carriages at canter, displaying a quadrille with successful drivers from all over Baden-Württemberg.
Moderator Jan Tönjes, since 2013 editor-in-chief of the oldest German horse magazine "St. Georg ", is the "voice" of the Marbach Stallion Parades and leads for eleven years now with expertise, wit and charm through the program. The events start at 12 o'clock, the stud will open its doors at 9.30 o'clock. From 11 o'clock a concert takes place in the courtyard of the stud farm. A large sales exhibition above the arena and culinary delicacies complete the offer. Afterwards, souvenirs can be purchased at the "Marbach shop" within the stud farm.
Tickets are available at Easy Ticket Service on 0711 / 2555 555 or online at www.easyticket.de and at all EasyTicket ticket agencies. The Marbach Stallion Parades are kindly supported by BayWa AG, Berg Brewery, Korn Recycling GmbH, Stuttgart German Masters, Outlet City Metzingen and Biosphere Hosts.