"We love our horses and that's why we give them a good education. That is the best thing a breeder can do for a horse" – this is one of the key phrases of Petra Dries, who has been breeding Arabian horses for riders for the last 25 years. And with success, because their horses are successful in the highest classes in western sports.
IN THE FOCUS: Ms. Dries, you recently celebrated a small anniversary: The 50th foal that was born at the Fronleitenhof Stud. Do you still remember your first foal?
Petra Dries: Yes, of course I still remember our first foal: Desert Safanad, a black mare. That was in 1995, exactly the year we moved to Austria, and thus our beginning of breeding Arabian horses. My father-in-law, who actually bred Hessian warm-blood horses for show jumping on a small scale, had imported Safanad's parents, Desert Shalimar and Black Flag, from Canada. As a child I had the desire to live on a farm with horses and to breed them. The opportunity arose when I moved with my family to the Fronleitenhof in Austria. I immediately fell in love with the Arabian horse and then took over breeding. Desert Safanad has developed into a really great riding horse and has become an important basis of our breeding. All of her foals are successful in sport and sometimes also in our breeding program.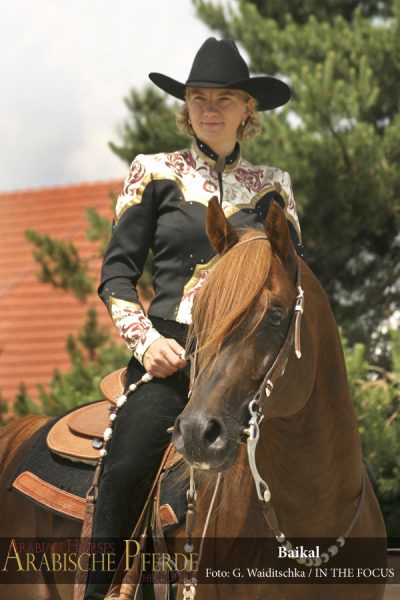 ITF: Has your breeding goal changed between the 1st and 50th foal? Do you now value certain properties more or less?
P. D.: It was a very, very long way to the 50th foal. A lot has changed during this time. My level of knowledge has developed a lot! The first foal was actually a coincidence – the mare was in foal when she came to us. So, back then, there was no breeding goal yet, even though my father-in-law chose the stud's first two Arabian horses with good conformation and character, based on his experience in breeding warmblood horses. Today I want rideable, healthy horses that are clear in their head. Western riding suits me – and always did -very much by the way the horses are trained for it. But that doesn't mean that the horses I breed are only suitable for western riding. They are trained with us in Western style because we enjoy western riding, because the Arabian horse is very suitable for this riding style and my two daughters, Leona and Sonja, are enthusiastic western riders. One criterion that I don't care about is color.
Behind the 50th foal – GFH Samiya – there are 25 years of experience compared to the first foal. Her sire Baikal is the stallion that has significantly shaped the development of our stud and whom we bought with our breeding goal in mind. Her mother Sonora is a racetrack-tested mare from Janow Podlaski.
-------------------------------------------------------------------------------------------------
The rest of this article is only visible to Online Subscribers.
Please log-in, if you are already an Online-Subscriber: Login-PagePlease go to the Shop, if you want to become an Online-Subscriber: Shop-page
The one-year Online Subscription is available at 20 €
-------------------------------------------------------------------------------------------------