It takes a good deal of stamina to run a training stable for 30 years, the majority of which is dedicated to the Arabian horse. Toni Baumann has stamina. Since April 1990 he has leased part of the "Kauber Platte" estate and runs a training stable here, while his partner Reinhild Moritz manages the Kauber Platte stud farm.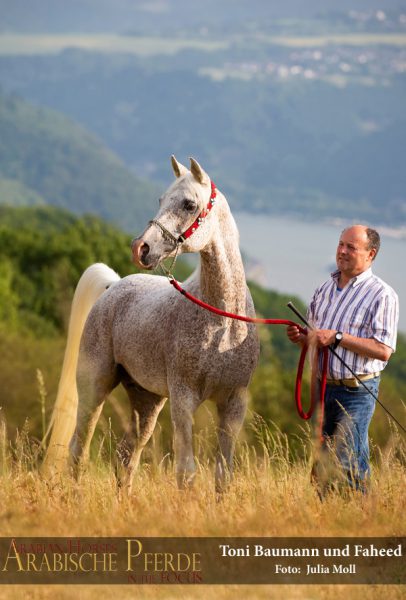 Toni Baumann was horse crazy even as a child. "My grandfather had the last draught horse in town and I was allowed to ride him even at the age of six," he says. "In 1972, I came to the Amun Stud of the Steiner family near Augsburg who bred Arabian horses. A year later the Steiners imported four pregnant mares from the USA, shortly afterwards the purebred Arabian stallion El Zahra (Anwar / Bint Gazella) was added, and in 1975 the beautiful El Kantara by Kaisoon, bred by Heiner Buschfort, Kauber Platte Stud – at that time, I had no idea, of course, that I would open a training stable at his place 15 years later!"
Toni used those 15 years to complete his professional training as "Pferdewirtschaftsmeister" (a German profession as certified groom, trainer and stable manager) at the Mertingen performance center, as well as various riding and driving courses at the main and state stud Marbach and at the Ansbach performance center. He had hardly arrived at Kauber Platte farm, when he met his "great love" among the horses: Faheed (Hakeel Ibn Kaysoon / Fayza). "He was born on April 1, 1990 at the Kauber Platte stud, exactly on the day I started my own business there," explains Toni. "And although he was sold as a foal, he came back again for training some time later. By chance I was able to buy him, when he was almost three years old. I broke him to saddle and harness and presented him at a number of shows at the stud ridden or in front of a sulky. When I put him up for sale as a young stallion, the prospective buyer wanted to ride him, but he didn't walk one meter under her. When I took him under the saddle again, he was fine. Then it was clear… he will stay! In the meantime he is 30 years old and has not disappointed me one single day. During this time he was always there for me and even at the "Night of the Horse" at the Kauber Platte Championship, he performed his part. "
-------------------------------------------------------------------------------------------------
The rest of this article is only visible to Online Subscribers.
Please log-in, if you are already an Online-Subscriber: Login-PagePlease go to the Shop, if you want to become an Online-Subscriber: Shop-page
The one-year Online Subscription is available at 20 €
-------------------------------------------------------------------------------------------------